Pablo Escobar's Wife: All you need to know about Maria Victoria Henao
For most people, the name Pablo Escober is quite popular, usually associated with "Druglord" or "narcotic Kingpin". He was one of the most brutal and wealthiest drug dealers to ever live. While his drug dealings and gang relations (Cartels) are popularized by the media and movie adaptations, Little is known about his family and love life.
Let's dive deep into Pablo Escobar's wife: who was she? learn all about her life with Pablo Escobar.
Maria Victoria Henao was the Colombian drug lord Pablo Escobar's wife. Maria married Pablo Escobar when she was 15 years old and had a 17-year relationship with him until his death. Their early courtship, however, was far from idyllic. Henao subsequently revealed that when her much older boyfriend kissed her, he left her "paralyzed with terror."
"I was not prepared," she later said. "I did not have the proper tools to understand what that intimate and intense contact meant." And when their relationship turned sexual, Henao became pregnant at 14 years old.
Escobar may be a criminal to the rest of the world, but to Maria, he was his prince charming, who adored and nurtured her like a princess. The drug kingpin was known to have had numerous affairs with different women, but it is unknown whether any of them bore him children.
Escobar's sins, however, extended far beyond infidelity. His cartel assassinated Justice Minister Rodrigo Lara in 1984, killed a presidential contender, and blew up a commercial airline as his riches and power rose. This was a watershed moment in their relationship.
Escobar's days were numbered by the time he was arrested in 1993. Escobar finally informed Maria Victoria Henao that he wanted her and the children to relocate to a government-run safehouse.
In December of that year, Pablo Escobar was killed on a rooftop in Medellín after being gunned down by Colombian police.
Read also: Guy tells his story of how a lady placed him on almost $600 monthly salary to pose as her husband for eight years under tight restrictions.
Pablo Escobar's Children with his wife, Maria Victoria Henao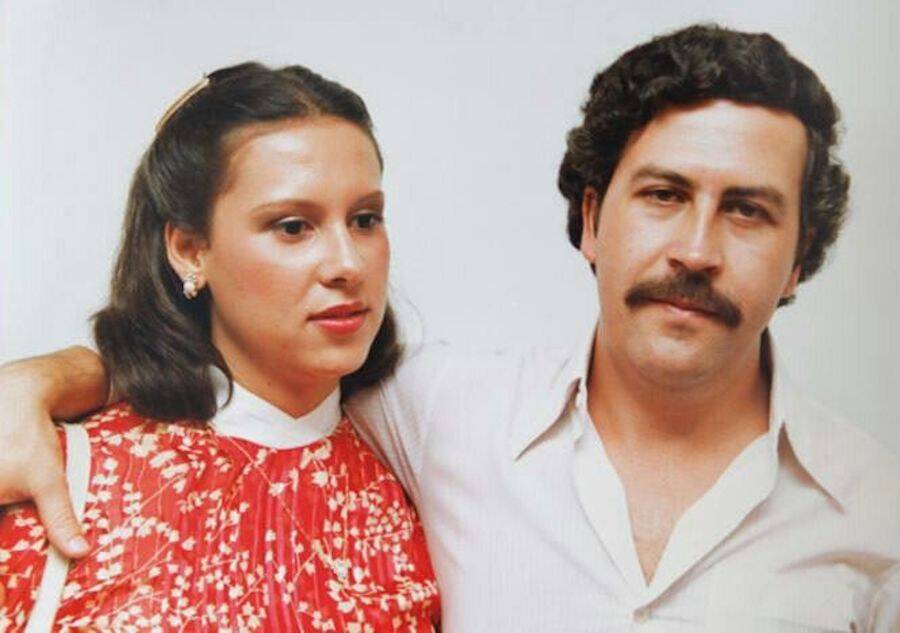 Escobar married Maria Victoria Henao, a 15-year-old girl, in 1976. The couple had two children: Juan Pablo, a son, and Manuela, a daughter.
Today, Escobar's son, Sebastian Marroquin, works as a motivational speaker.
Marroquin studied architecture and wrote Pablo Escobar: My Father, a memoir about growing up with the world's most renowned drug lord, in 2015. He also claims that his father killed himself.
"My father's not a person to be imitated," Marroquin said in an Agence France-Presse interview. "He showed us the path we must never take as a society because it's the path to self-destruction, the loss of values, and a place where life ceases to have importance."
Before he was assassinated, Pablo Escobar was reported to have amassed a fortune of $30 billion, equivalent to $64 billion in purchasing power in 2021.
Read also: Wizkid's Essence featuring Tems becomes first African song to be certified platinum in the United States